Refresh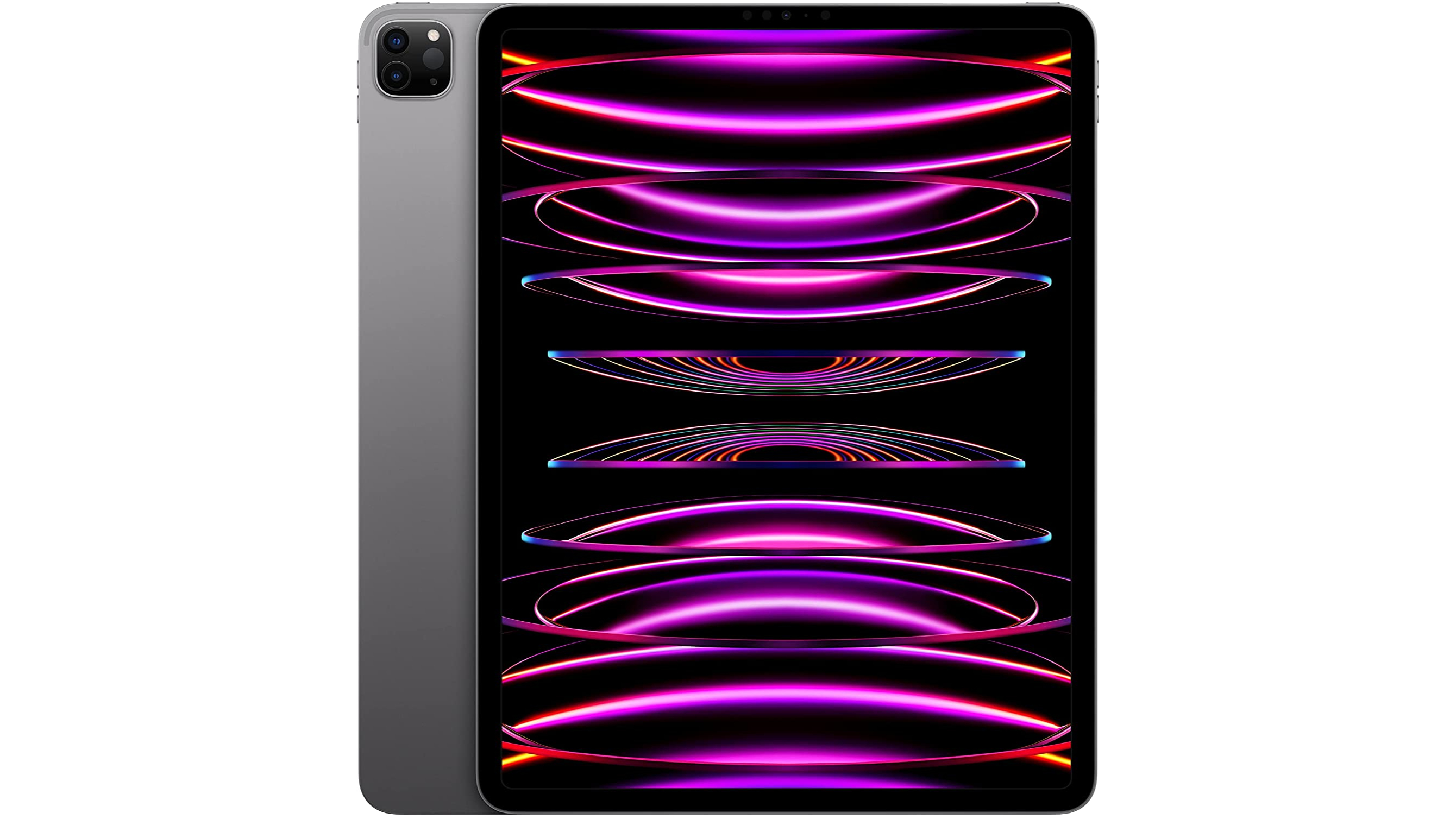 We're wrapping up for tonight. We'll be back shortly to continue seeking out the best Black Friday iPad deals, but I think we're probably already seeing a lot of the best offers that we're going to get. And they're pretty good deals. 
You can see the full list above, but the highlights at either end of the spectrum are the standard 2021 10.2-inch iPad from $329 $269 at Amazon (opens in new tab) and the brand new super-powerful M2 iPad Pro 12.9 from $1,099 $999 at Amazon (opens in new tab).
These both have Black Friday deals in the UK too: the iPad 10.2-inch is £369 £309 at Amazon (opens in new tab) and the iPad Pro 12.9-inch (M2 2022) is £1,429 £1,391.36 (opens in new tab)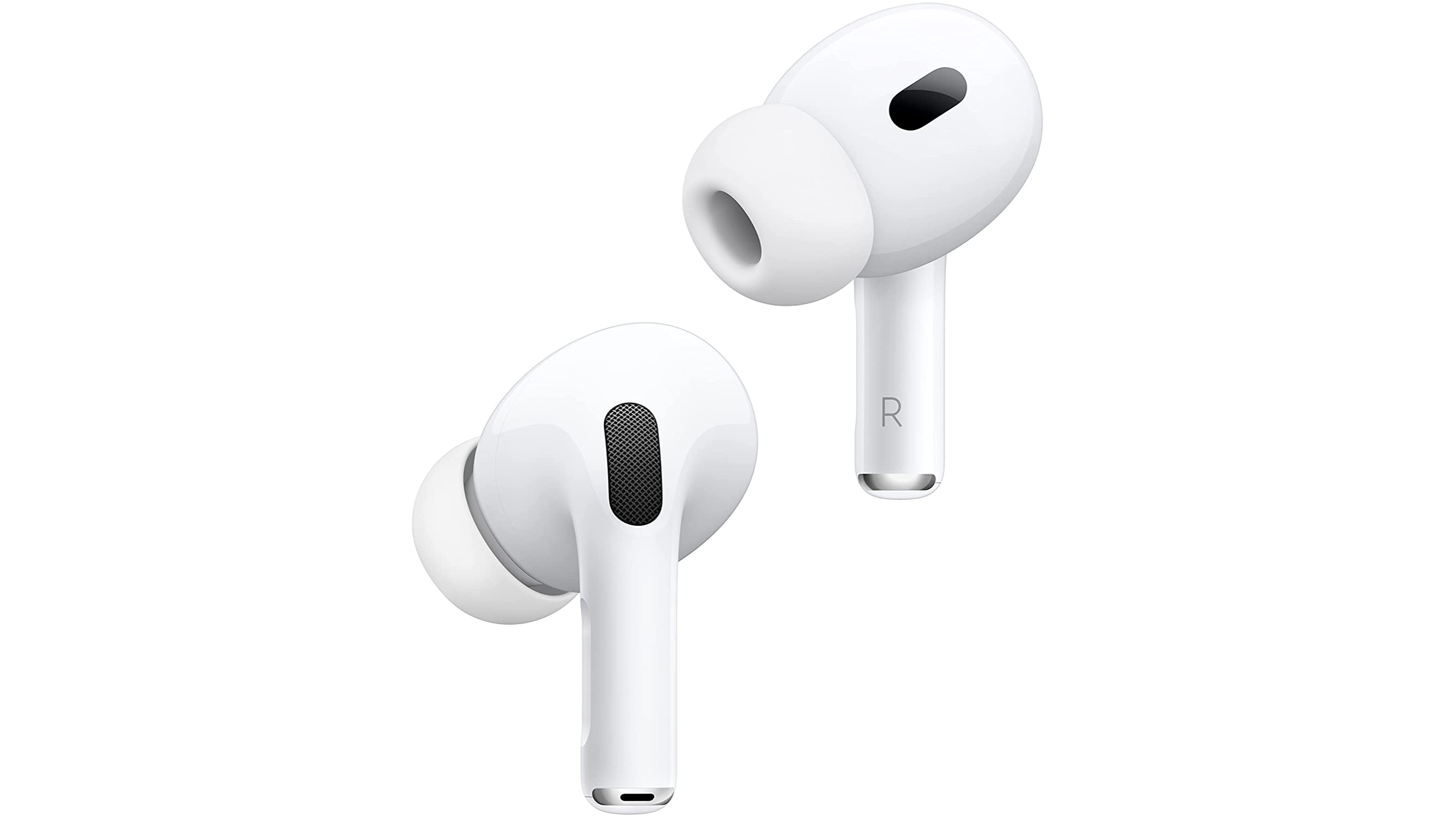 Apple's taking it's time updating its store in the US. In the meantime, remember that as well as looking at iPads, Black Friday is a great time to grab any accessories you've had your eyes on – particularly AirPods.
A pair of AirPods are almost an essential iPad accessory if you want to use your tablet for listening to music, watching films or editing video anywhere public. And the great news is that Amazon has almost $50 off the best inner-ear AirPods yet, the updated version of the AirPods Pro which were only released in September. It has the AirPods Pro 2 reduced from $249 to $199.99 (opens in new tab).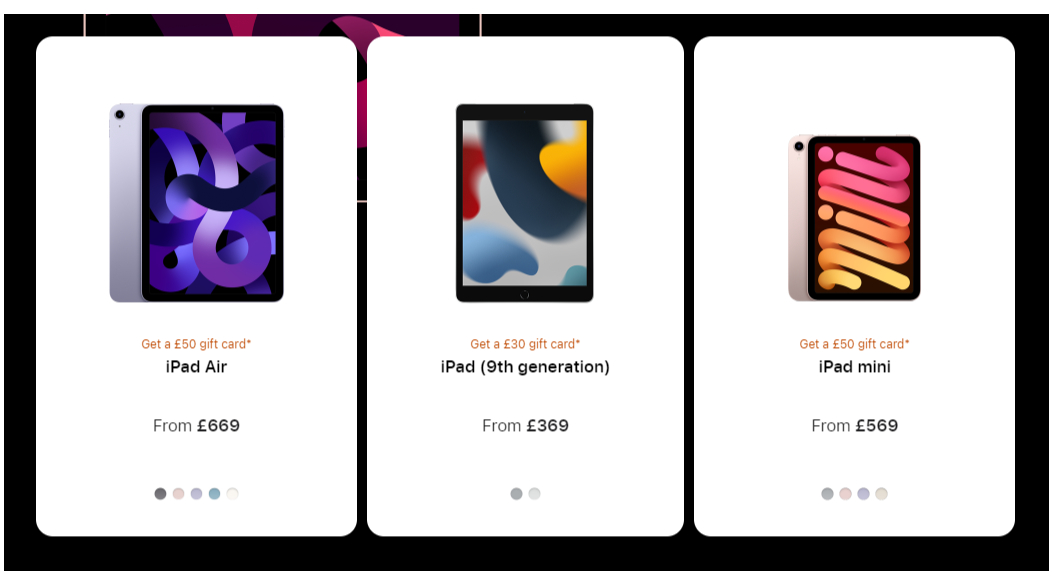 So, yes, these are the deals. They're actually even stingier than I was expecting because when it comes to iPads, Apple's only giving away £50 gift cards with the 2021 iPad, the 2021 iPad mini and the 2022 iPad Air. Nothing for those who buy the more expensive iPad Pro (at least in the UK, I'll check the US gift voucher offers as soon as they're up.
We're sorry to pour cold water on Apple's grand reveal, but we have to point out that all three of these iPads are already available with direct discounts of at least £50 elsewhere. If you really want to buy from Apple, here's the link the Apple "shopping event" in the UK (opens in new tab). But these are the best Black Friday prices on each of those three iPads elsewhere: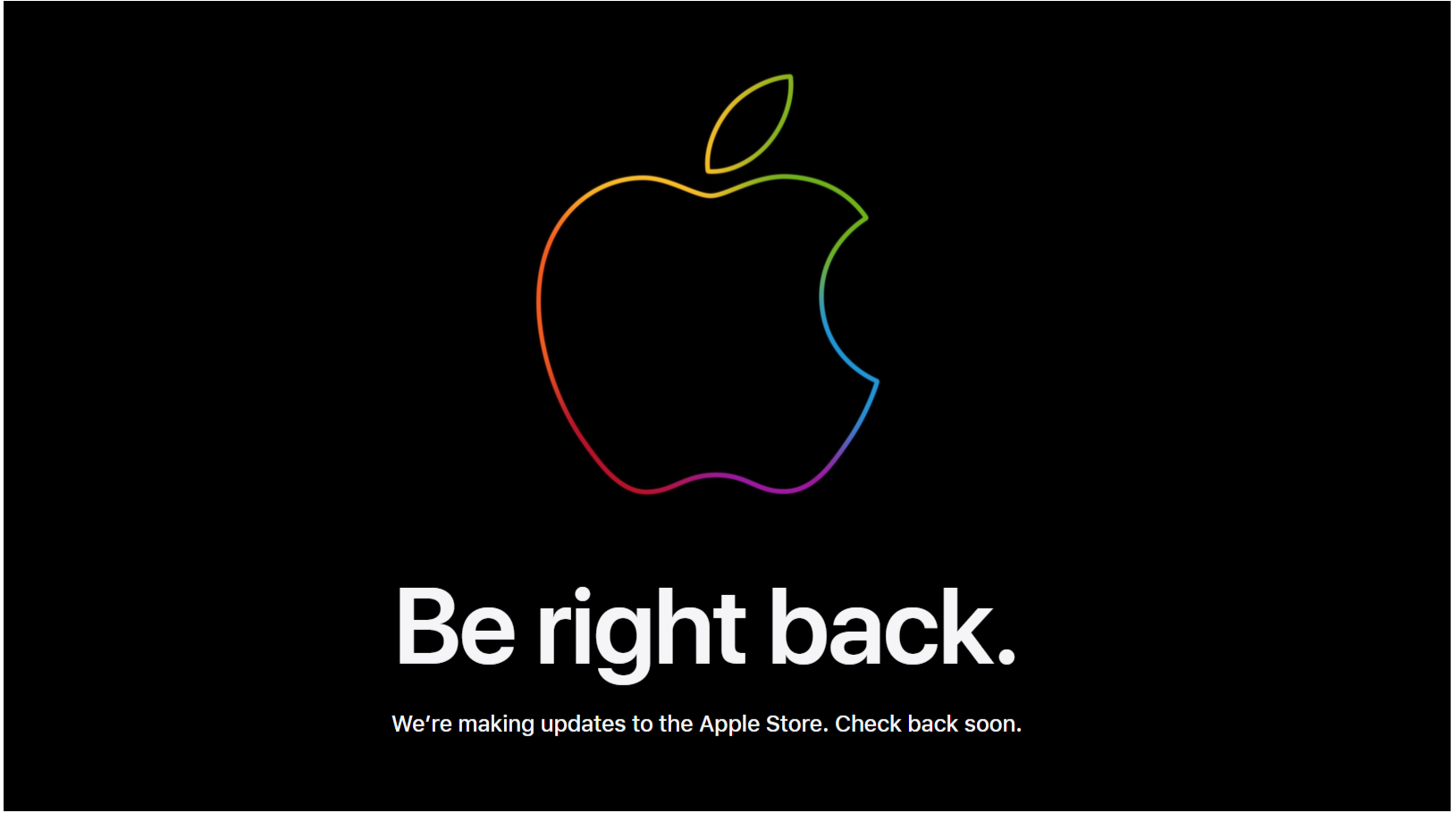 The Apple Store is down, and that can only mean one thing. Apple's about to launch its own Black Friday deals!
Is this something to get excited about? Not really. I can tell you know what they'll be: gift cards to use against future Apple purchases. For iPads, we can expect Apple to generously give us a $50 / £50 gift card if we buy an iPad from it over this weekend. That's not really much of a deal when we're seeing direct savings of more than $50 / £50 on many iPads at other retailers.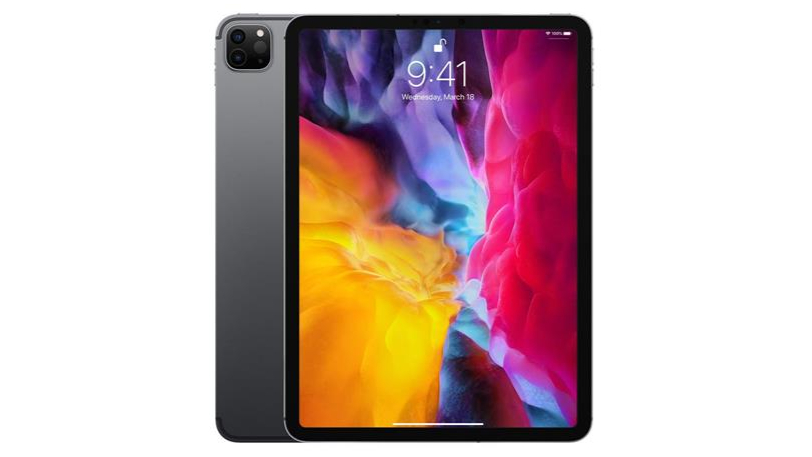 So what about in the US? I've been searching, and there are more savings on older iPads there. Adorama has $349.01 off an early 2020 iPad Pro 11 with 1TB storage, now $949.99 (opens in new tab). That's a big discount for an iPad, and 2020 isn't so long ago, but the iPad Pros got quite an upgrade with the introduction of the Apple's own silicon in 2021. This has a A12Z Bionic chip device from prior to that upgrade. 
For most people, I'd say that if you need the performance of a Pro, pay a little extra for the newer M1 or M2-chipped tablets. The one exception would be If storage capacity is a big priority for you since the 1TB configuration of the latest iPad Pro 11 costs $1,499, so that's a massive difference in price compared with this deal.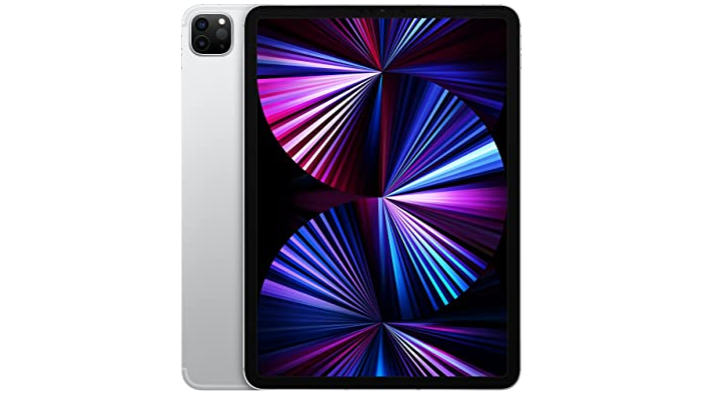 You might have noticed that all of the iPads that we listed in that roundup of UK iPad Black Friday deals are the models in Apple's current lineup  – the latest generation of each device. Now, normally, we might expect to find the best deals on older models, but this year, that's really not the case. In fact, it's quite hard to find any older iPad models left in stock anywhere (at least not new; there are plenty of renewed models)
Even the April 2021 iPad Pros, which were only superseded a month ago have all but disappeared from stores. one of the few exceptions is the top configuration of the 2021 iPad Pro 11 WiFi + cellular with 2TB storage, reduced from £1,899 to £1,474.24 (opens in new tab) at Amazon. That's a massive £424.76 saving. 
It could be a good buy for anyone who really wants an iPad with that much storage. We'd normally suggest going for a smaller storage option and using cloud storage or external drives, but if you do want 2TB on board, that configuration of the new iPad Pro 11 will cost you a staggering £2,329, which makes the Black Friday deal on the older model sound really rather good.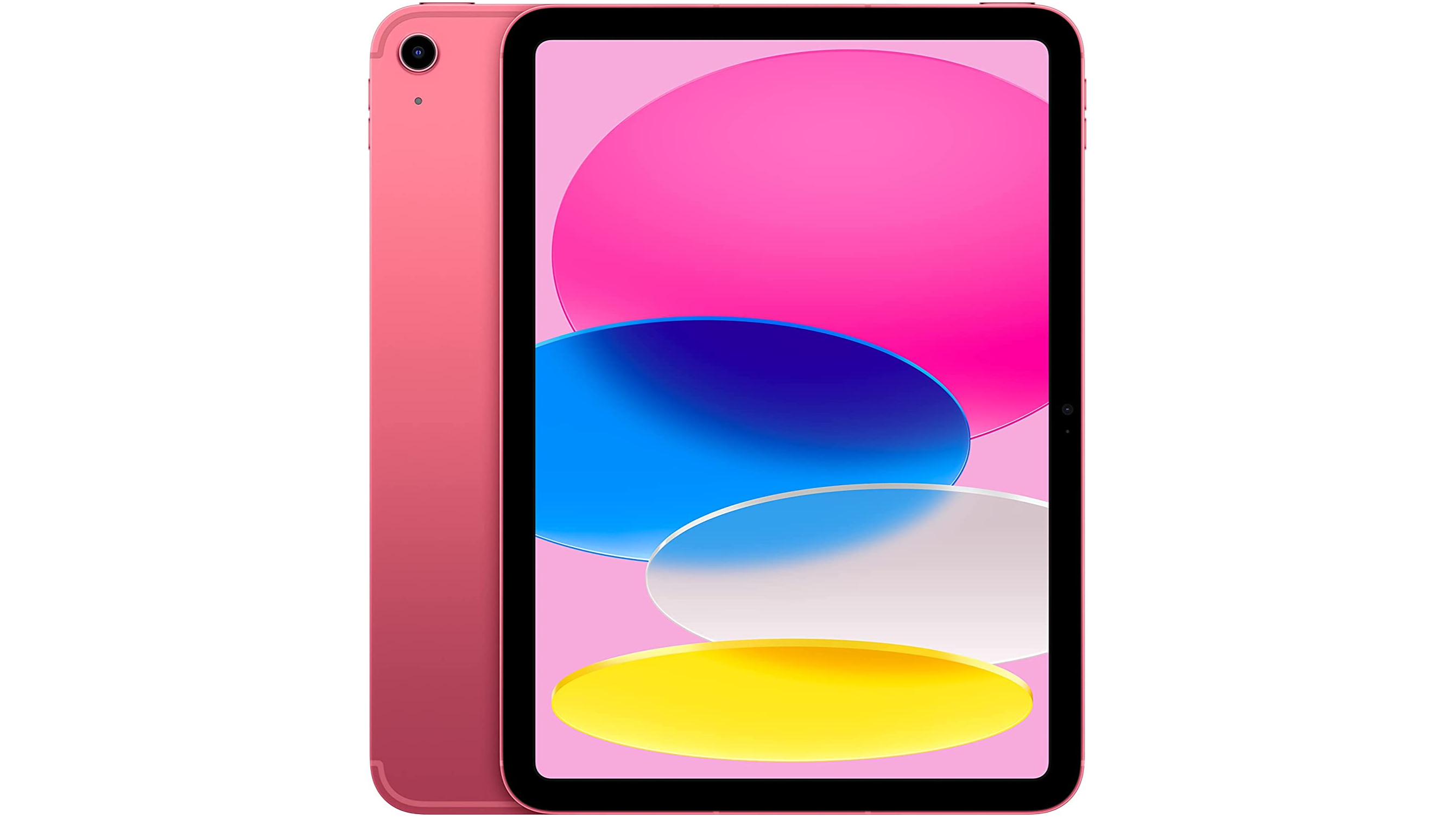 It's now Friday in the UK. As in actual Black Friday. Normally that would mean a slew of new deals appearing as the clock ticks midnight, but it seems like we might already have got everything, at least as far as iPad Black Friday deals go. So many retailers starting their Black Friday deals early this year, and now it's actually Black Friday, there's nothing new on offer so far. 
That's not necessarily a bad thing though. We already have Black Friday iPad deals on pretty much every iPad that Apple produces, and it's hard to expect much more than that. The sales starting earlier also means making a choice is a little less frantic this year, because the deals aren't restricted to just one weekend (they could still end at any time, though).
But for anyone in the UK who was waiting up until midnight to be first to get the Black Friday iPad deals when the clocks struck 12, these are all the best offers on iPads right now: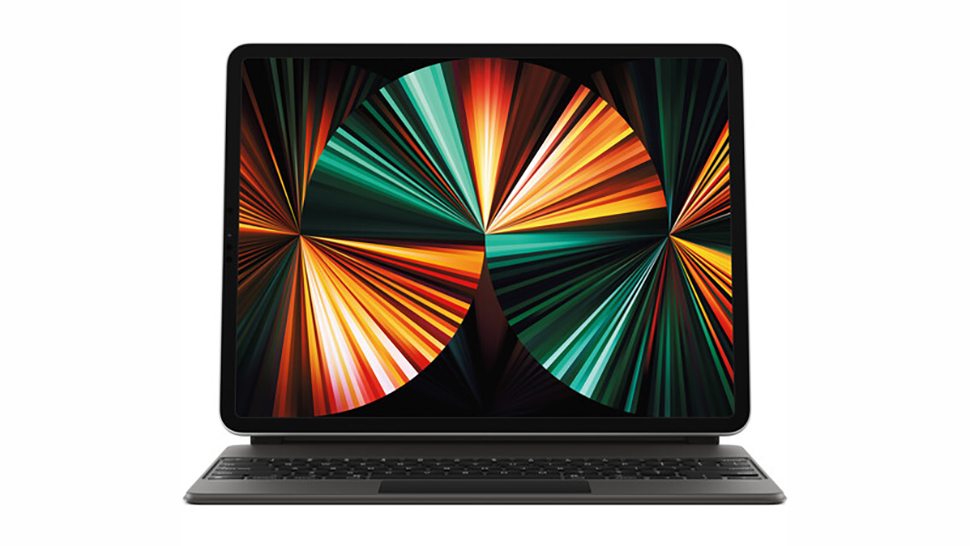 We don't often come across loads of brilliant iPad bundle deals (or any, really), but this one has definitely caught our eye. 
Right now you can get the iPad Pro 12.9-inch (M2, 2022) plus the Magic Keyboard down from $1,448 for $1,348 over at B&H Photo. Now, we know that's only a saving of $100, but quite frankly we just like the novelty of reporting on an iPad bundle deal. And, you know, $100 is $100… now you just have to worry about the $1,348!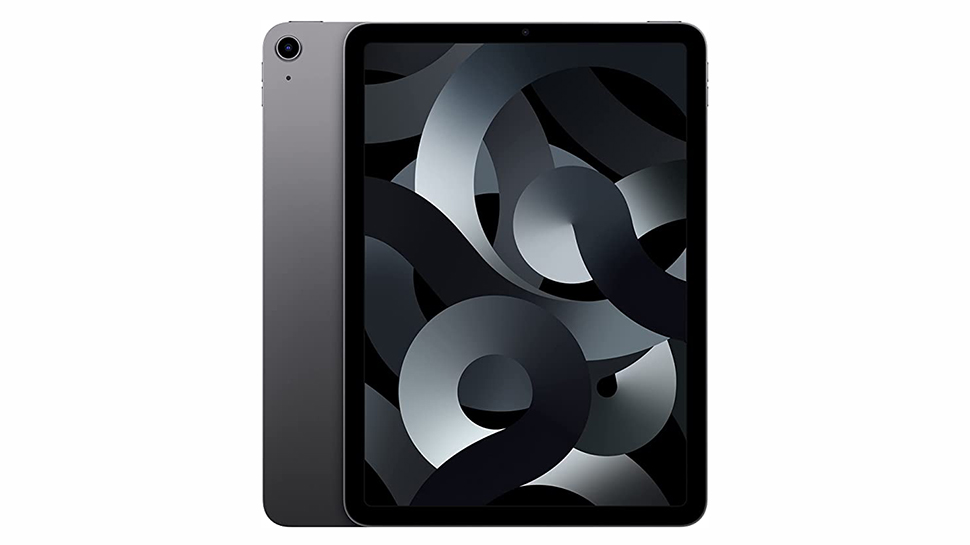 Out of all the deals on this year's iPad Air, Amazon is currently winning with this discount – it's down from its retail price of $749 to $679, saving you $70 (opens in new tab). 
Seeing that that's on the 2022 model, the very same model that we almost gave a perfect five stars in our hands on review, we'd say it's a good deal that's worth considering. Want to get an idea of where the iPad Air stands in the iPad family tree? Check out our iPad Generations page.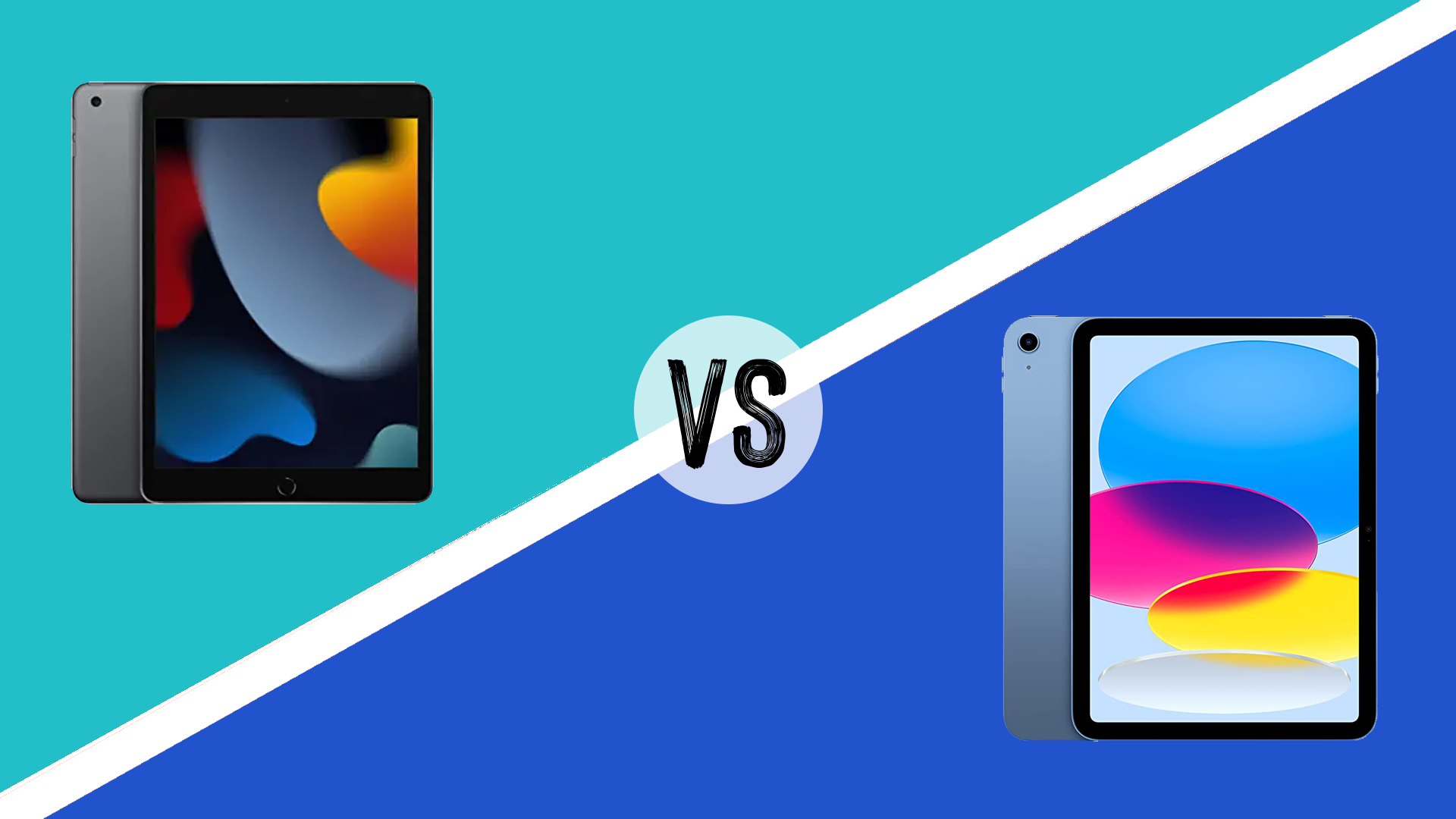 Every time Black Friday comes around, consumers are given the same quandary: This year's model or last year's? And looking at the two best iPad deals that we can find right now, we're asking ourselves the same question again. 
Last year's model of iPad – which was a beauty – is currently down from $329 to just $269 over at Amazon (opens in new tab). This year's iPad is down from $449 and going for $426 (opens in new tab). Both are 10.2-inch, and both come with 64GB. 
Now, we're not saying they're the same iPad. The new one has come with some new features, a nicely positioned camera on the landscape side of the iPad, and Apple Pencil 2 compatibility… but come on! It's the entry-level iPad. The standard one. The one that should appeal to the majority of buyers. For us, there's a clear winner here. We'd go for the much cheaper, and still brilliant 2021 model!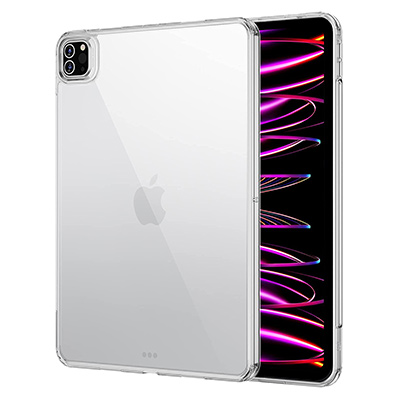 Right now, the best deal on the iPad Pro with the M2 chip, which was released recently, is $100 off the asking price of $1,099 over at B&H Photo – it's now $999 (opens in new tab).
Now, that's not the biggest discount we've seen on this model. That was when the asking price was knocked down to $784, over at Amazon. But right now, this is the best we can find, if you want to get your hands on the most recent iPad Pro.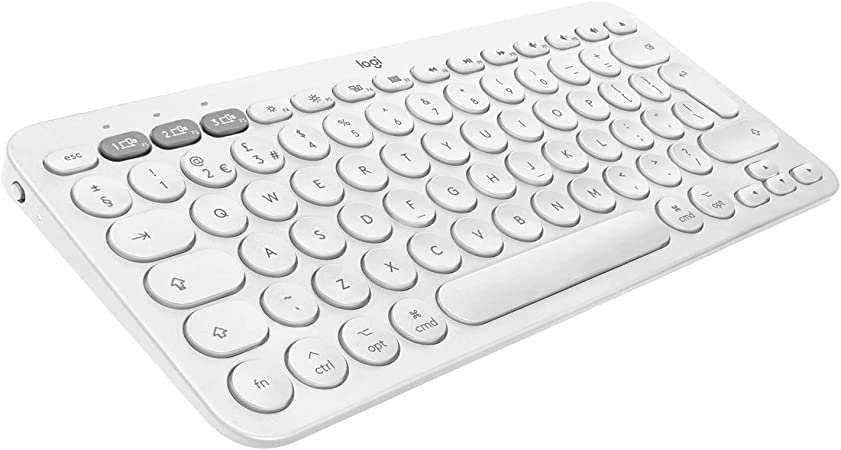 If you're in the US and looking for a good Black Friday keyboard deal for your iPad, the Logitech K380 Bluetooth Keyboard for Mac is $10 off on B&H, now $29.99 (was $39.99) (opens in new tab). And UK users can rejoice too, as it's £5 off on Amazon, now £39.99 (was £44.99) (opens in new tab).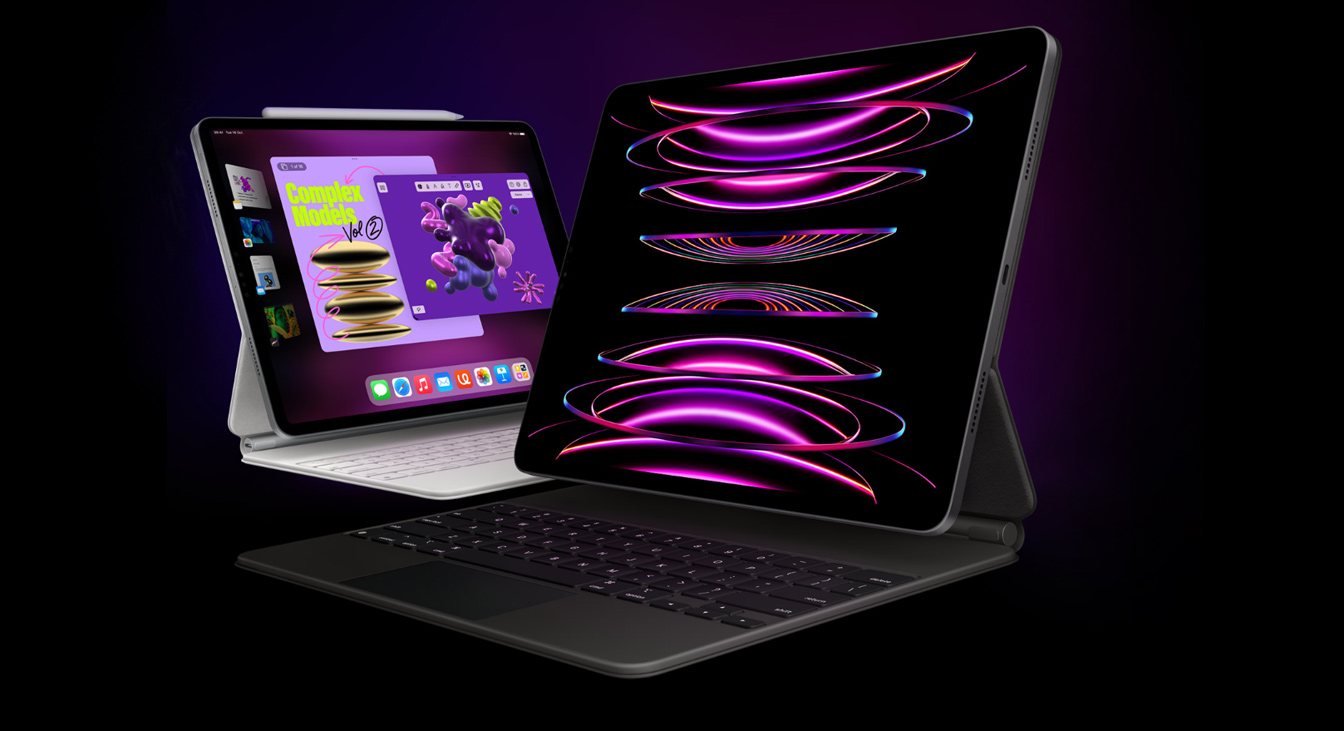 Over in the US, you can also grab a great discount on the brand new M2 iPad Pro. Right now, the 128GB iPad Pro is available at B&H for $999, down from $1099 (opens in new tab).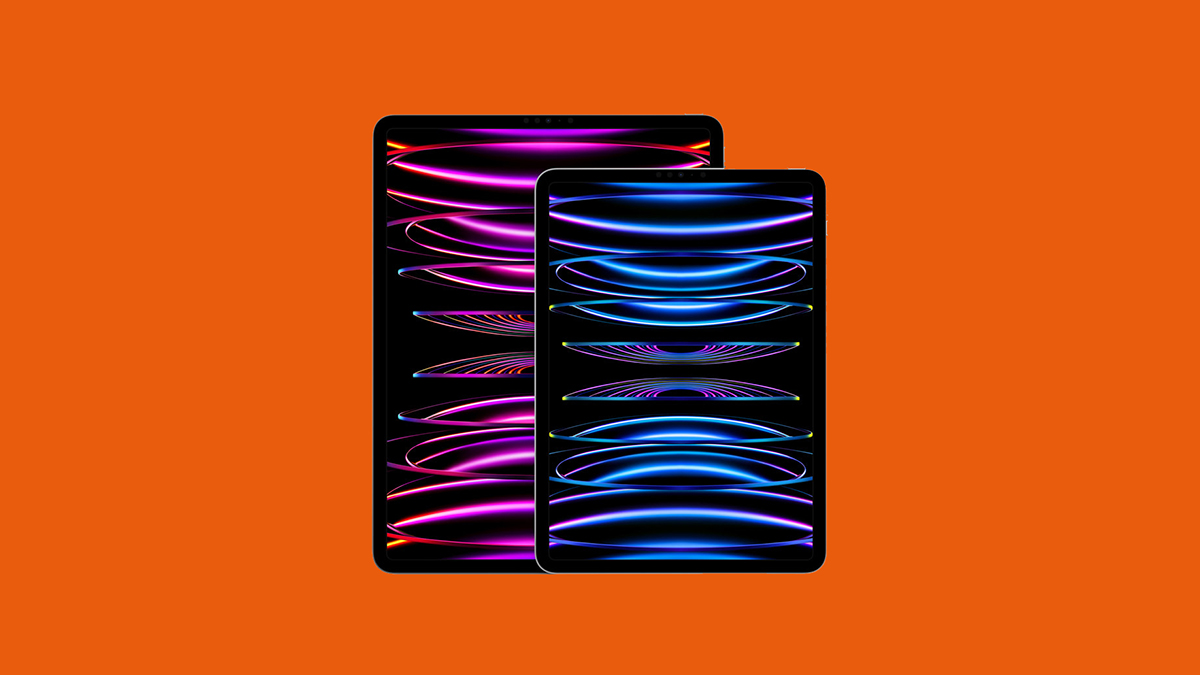 Speaking of the latest gear, we're surprised to be seeing some deals on the latest iPad Pro already. Released just last month, the new high-end tablet features the Apple Pencil's awesome new 'hover' feature – and if you're hovering over the 'Buy' button, £40 off at John Lewis (opens in new tab) might make that decision a little easier.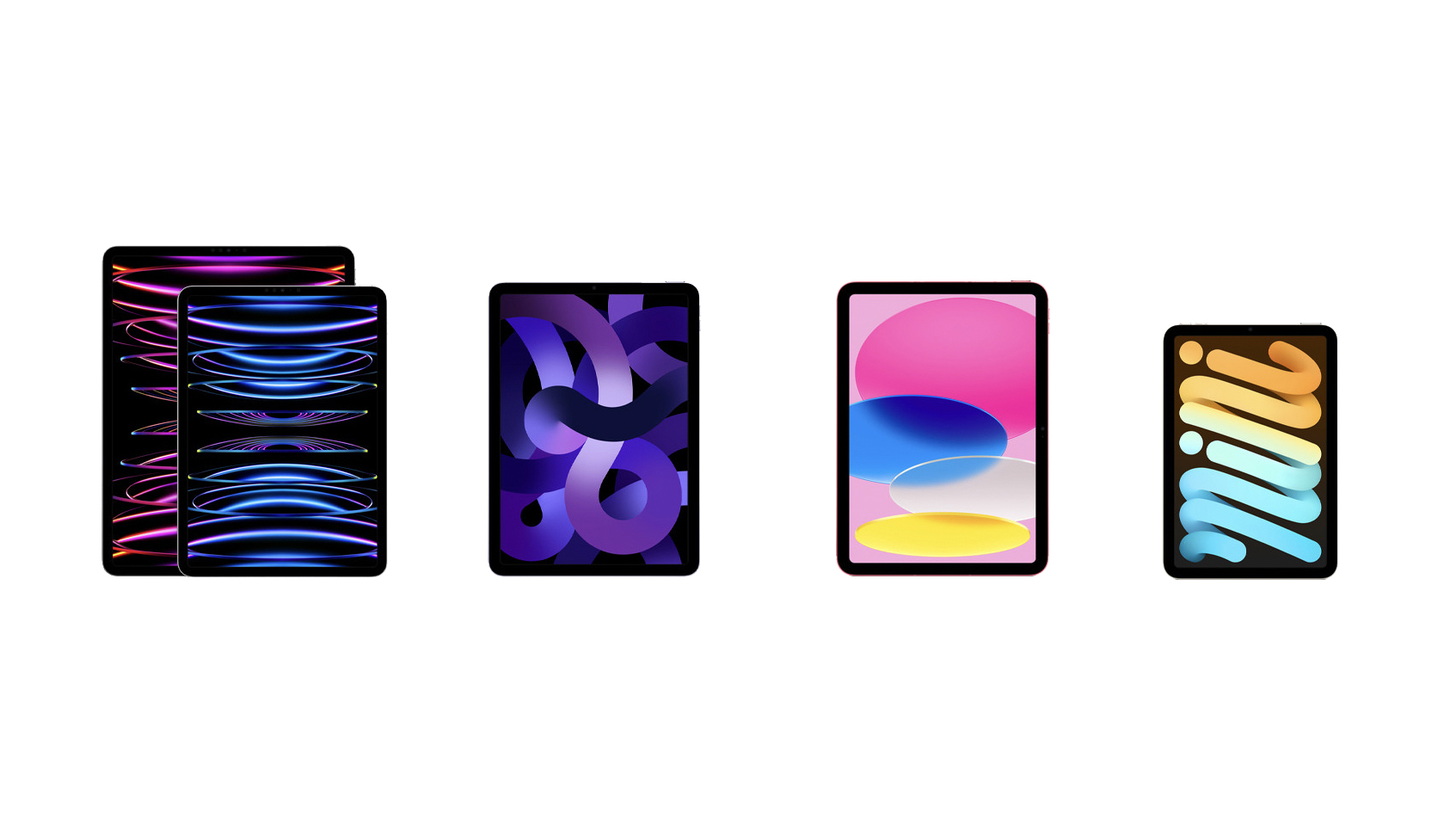 If you're considering buying your first iPad, it can be a little intimidating knowing where to start. What's the difference between the 9th and 10th generation? Do you need an Air or a Pro. Not only does our iPad generations guide have you covered, but Amazon also has a dedicated iPad page (opens in new tab) where you'll find every deal in one place.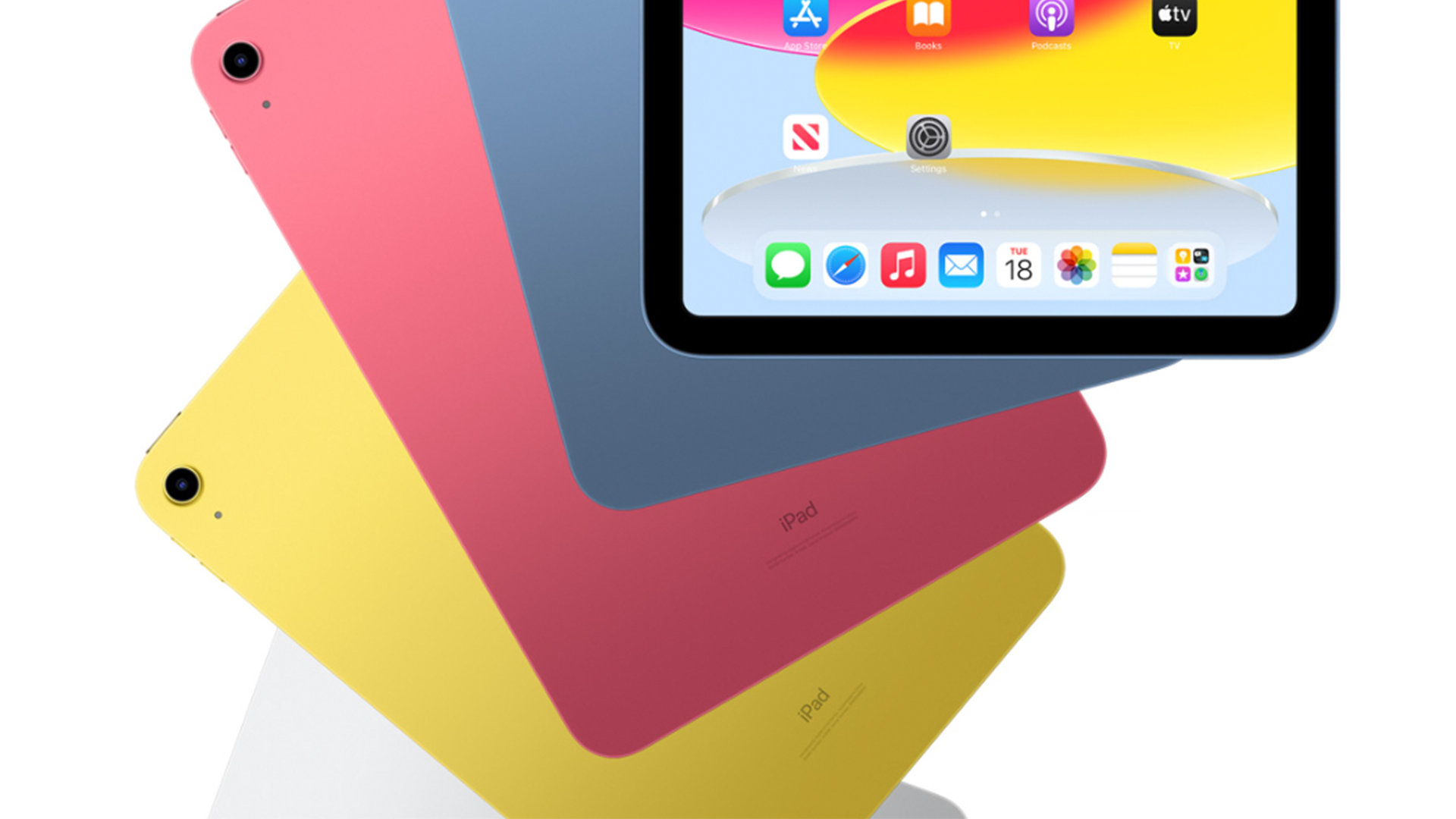 Apple finally brought the entry-level iPad into the 21st Century last month, doing away with the home button and chonky bezels in favour of an all-screen design. And somewhat surprisingly, it's already available for £20 off in the UK at Very (opens in new tab).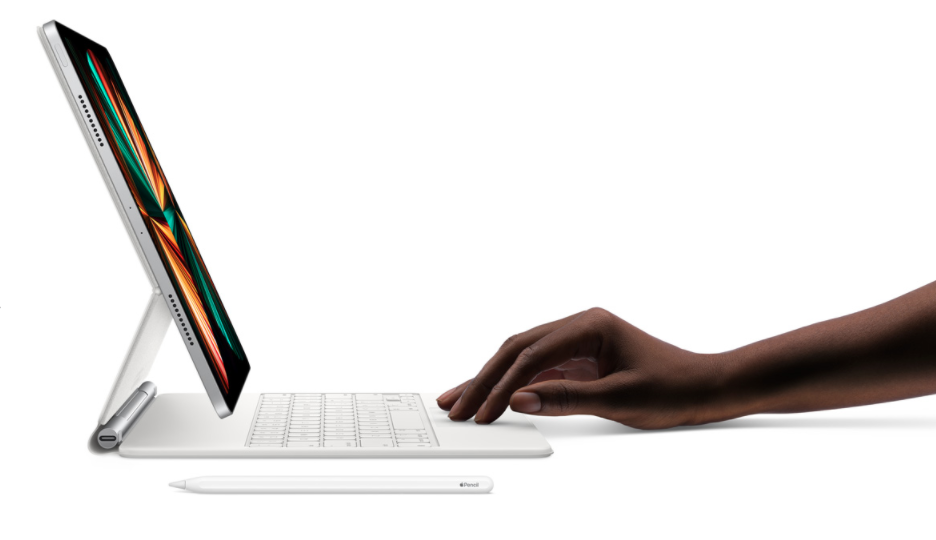 If you really want the iPad to act as a laptop replacement, then a Magic Keyboard is essential. Right now at John Lewis, you can save £20 on the accessory when bought with the awesome iPad Air 5 (opens in new tab), using the code APPLESAVE20.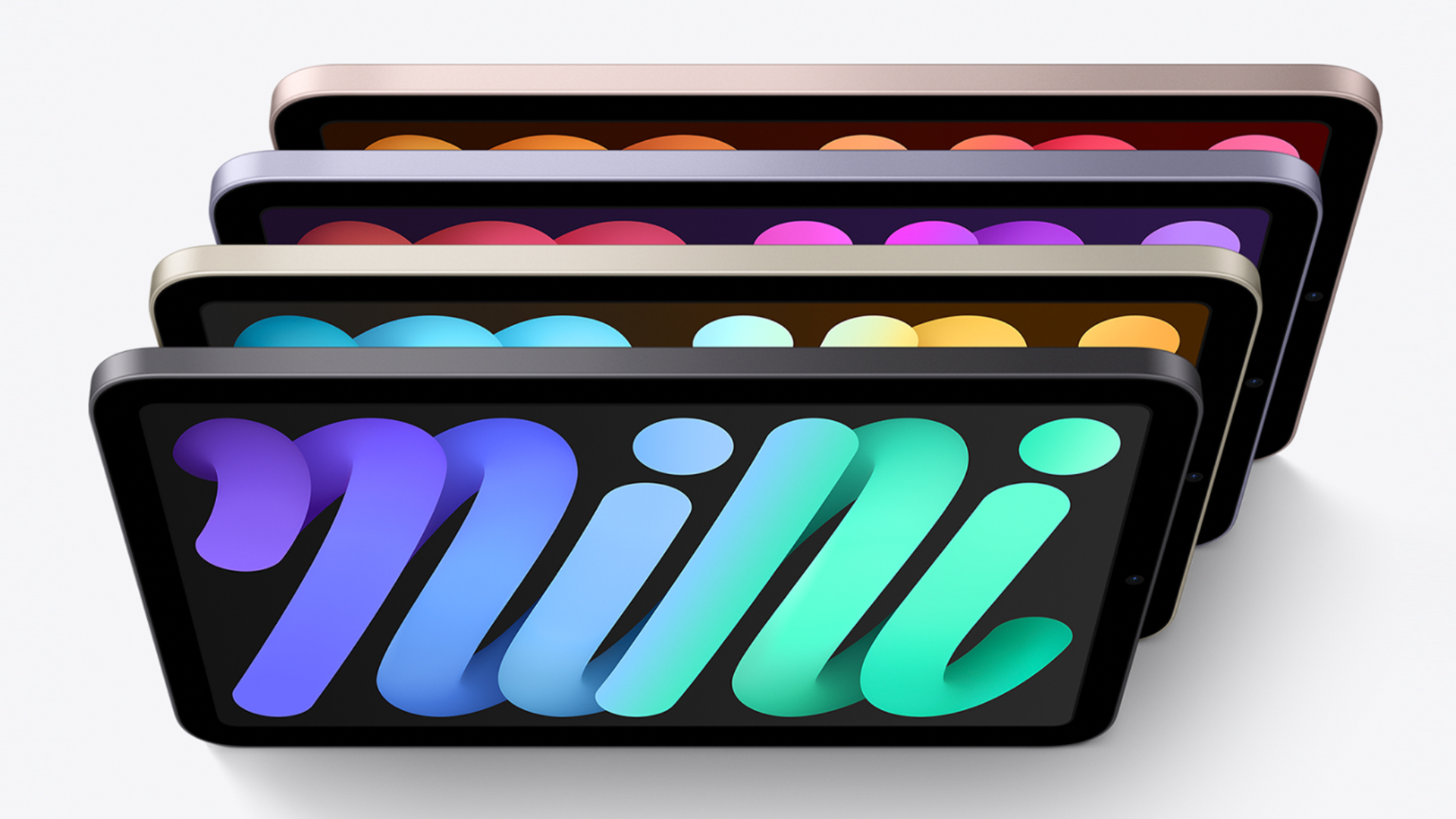 When Apple announced its new iPads last month, there was a sting in the tale – it quietly raised the prices of existing models, most notably the iPad mini. But don't despair – right now, the 256GB iPad mini is a whopping $100 off at Amazon, bringing the price down from $499 to $400 (opens in new tab).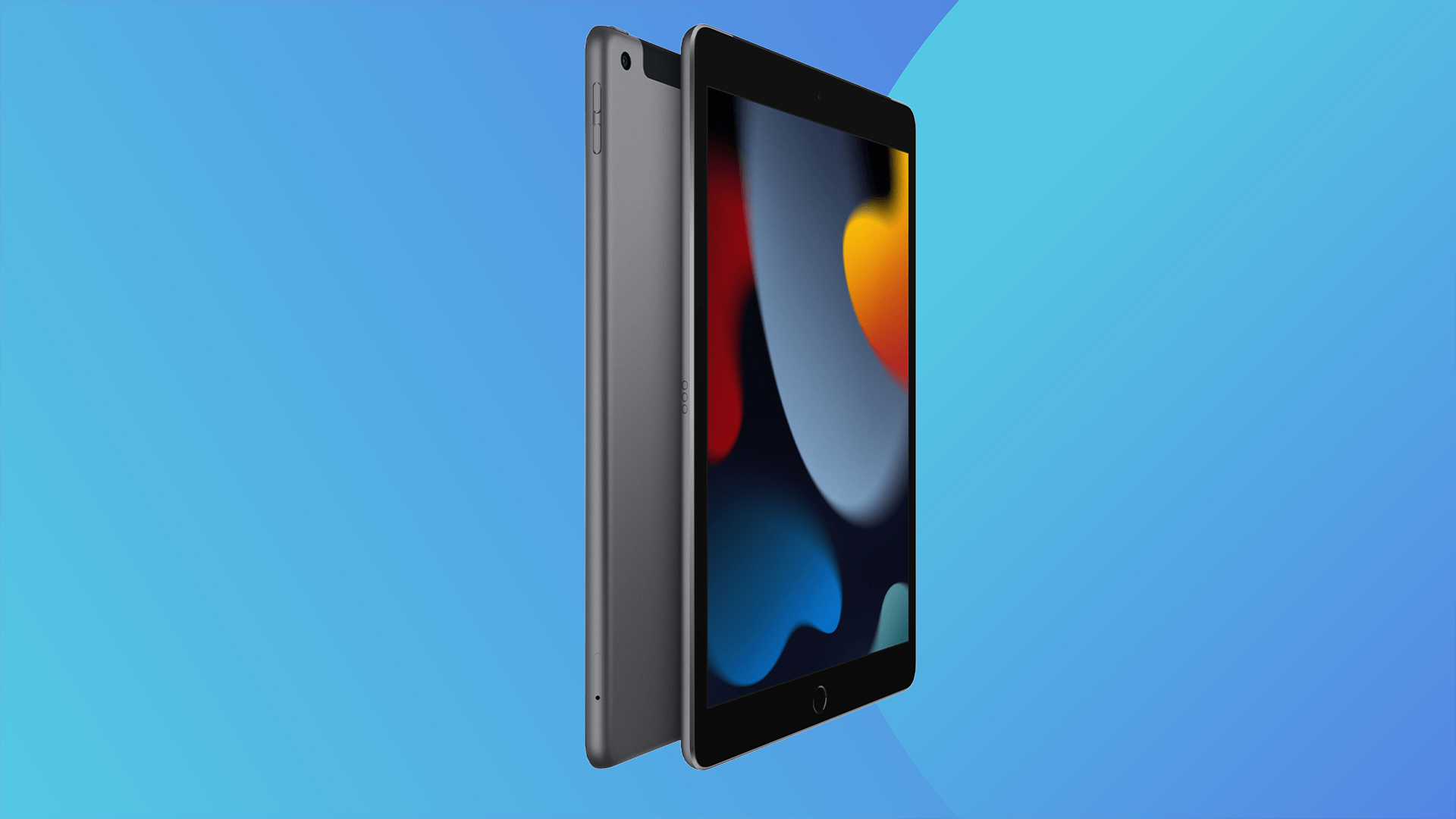 We're calling it – Amazon's 10th generation iPad deal is the one to beat this Black Friday. Right now, the 9th generation iPad is £60 off in the UK and $60 off in the US – which means for perhaps the first time ever, you can bag an iPad for under $300. And this is no discontinued model either – the 9th generation iPad is still sitting proud in the current iPad line up. In the UK it's £309 (opens in new tab), and in the US it's just $269 (opens in new tab).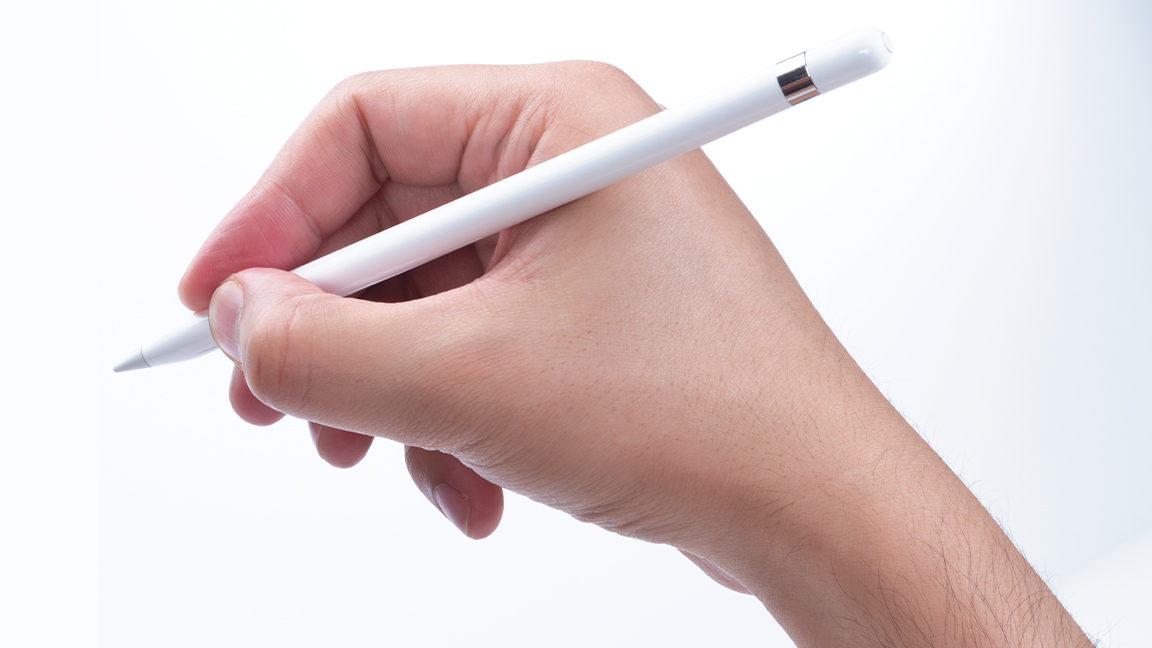 What's rarer than iPad deals? Apple Pencil deals. But right now on Amazon in the US, both the 1st and 2nd generation models are on sale, with $30 off the 2nd gen (opens in new tab), and $20 off the 1st gen (opens in new tab).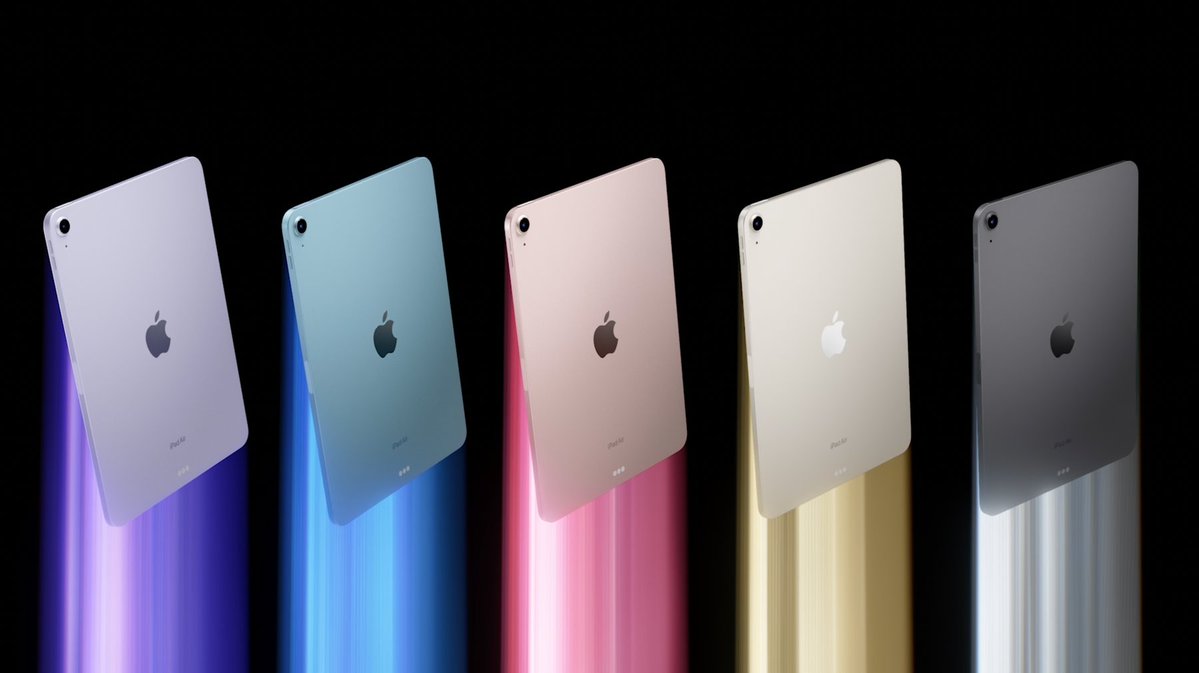 The 5th generation iPad Air is one of the most powerful tablets around, and certainly gives the iPad Pro a run for its money. And at 15% off, bringing the price down from £669 to £569 (opens in new tab), it's a bargain at Amazon right now.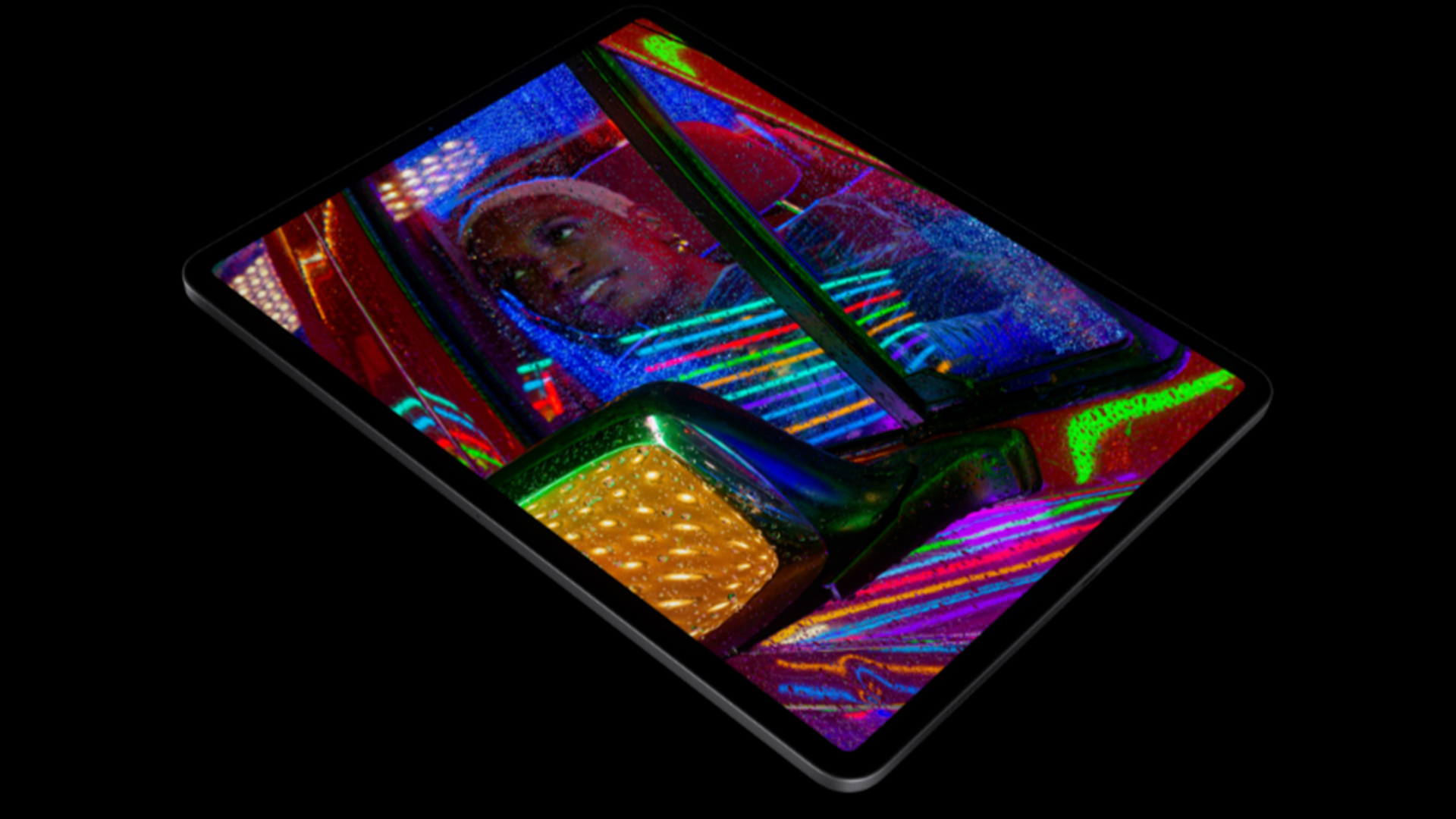 If you want the almost latest and greatest, in the UK John Lewis is offering £100 off the iPad Pro 11-inch (5th gen, 2021), bringing the price down from £1,749 to £1,649 (opens in new tab). And this comes with a whopping 2TB storage – which is, let's face it, as much as you'll ever need.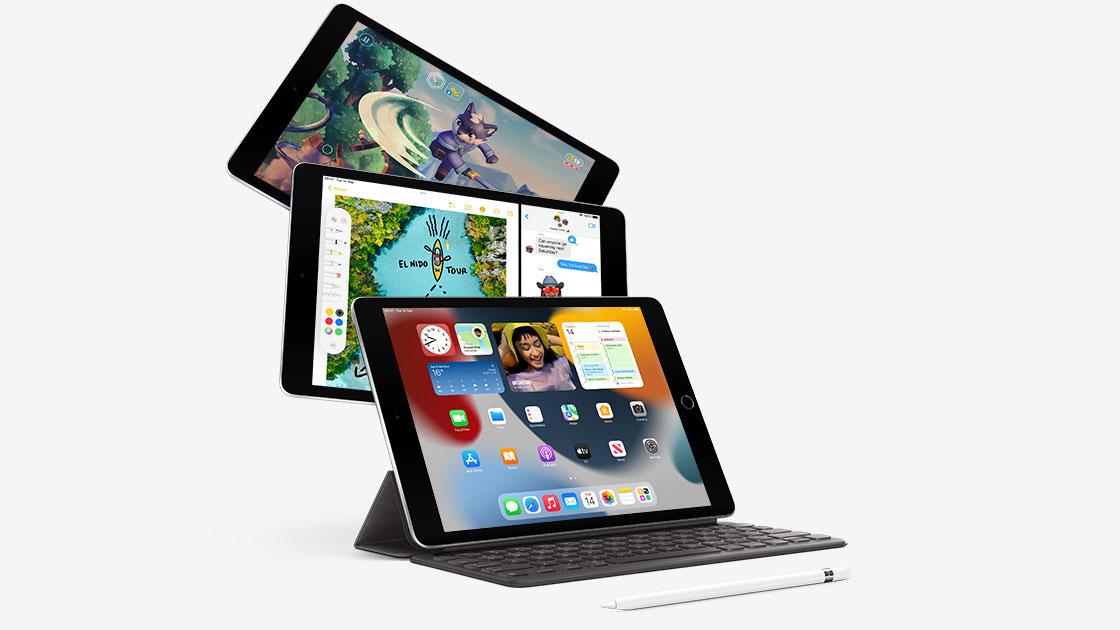 Apple is hardly a company known for its budget pricing, so it's pretty amazing to be able to grab an iPad for just over £300. On Amazon right now, the 9th generation 10.2-inch iPad is a whole £60 off (opens in new tab), available for just £309!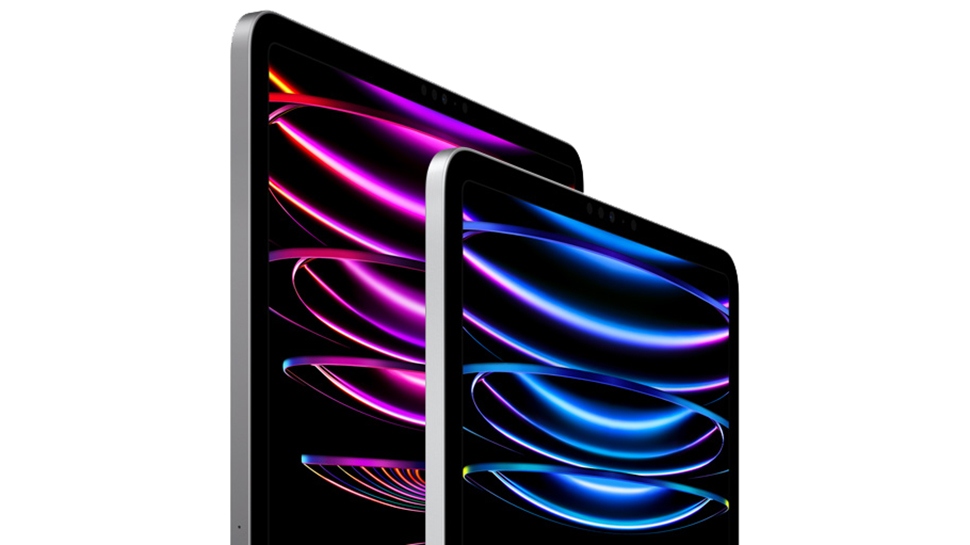 If you're after the latest and greatest, the 11-inch 2022 iPad Pro, released just last month, is already discounted on Amazon with £40 off – bringing the price down to £859 (opens in new tab).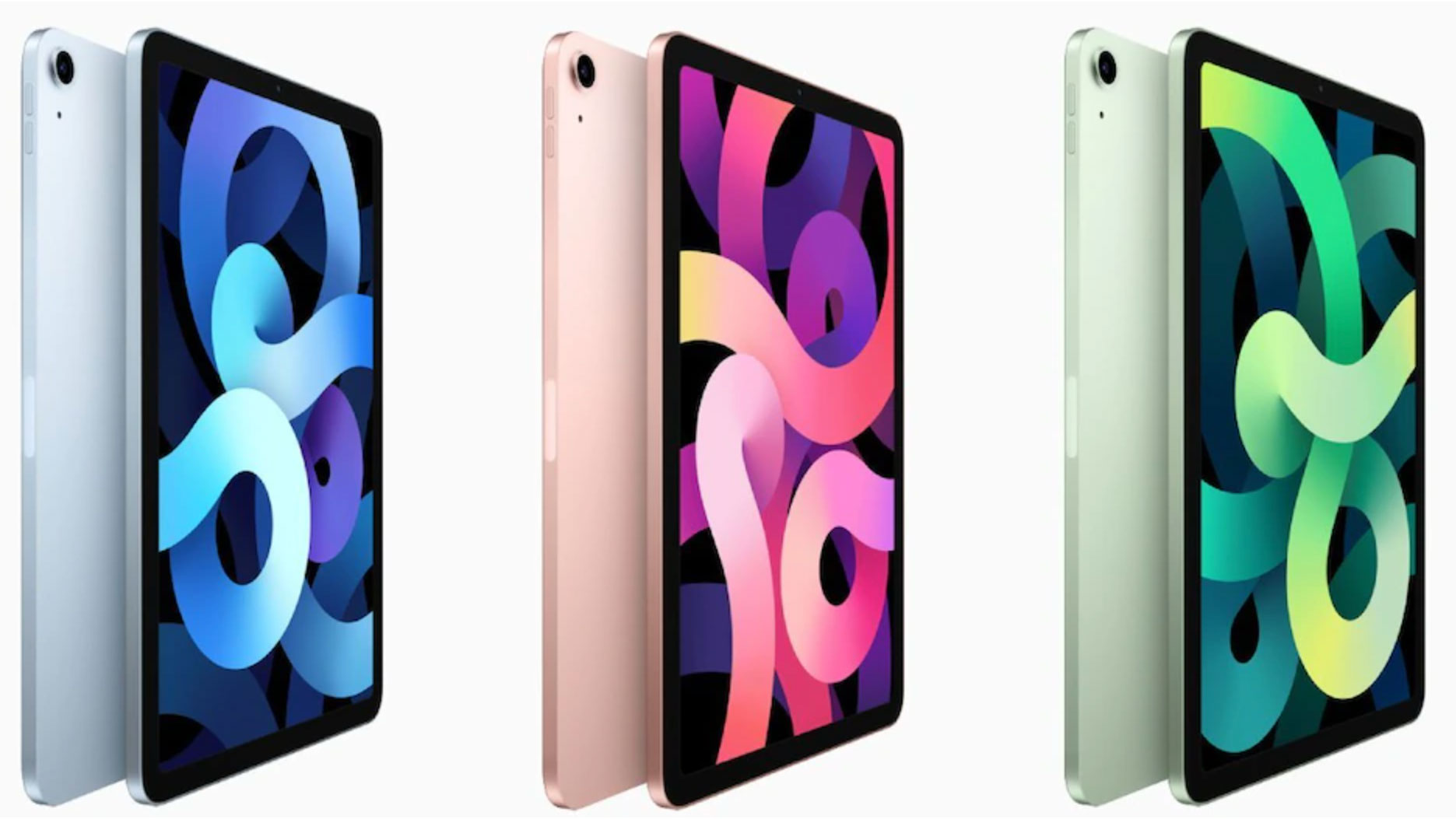 We were blown away by the 4th generation iPad Air when it first appeared in 2020, and it's still impressive now. With the all-screen design and Apple Pencil 2, it gives the Pro a run for its money – and in the US right now, it's down from $599 to $349 at Walmart (opens in new tab)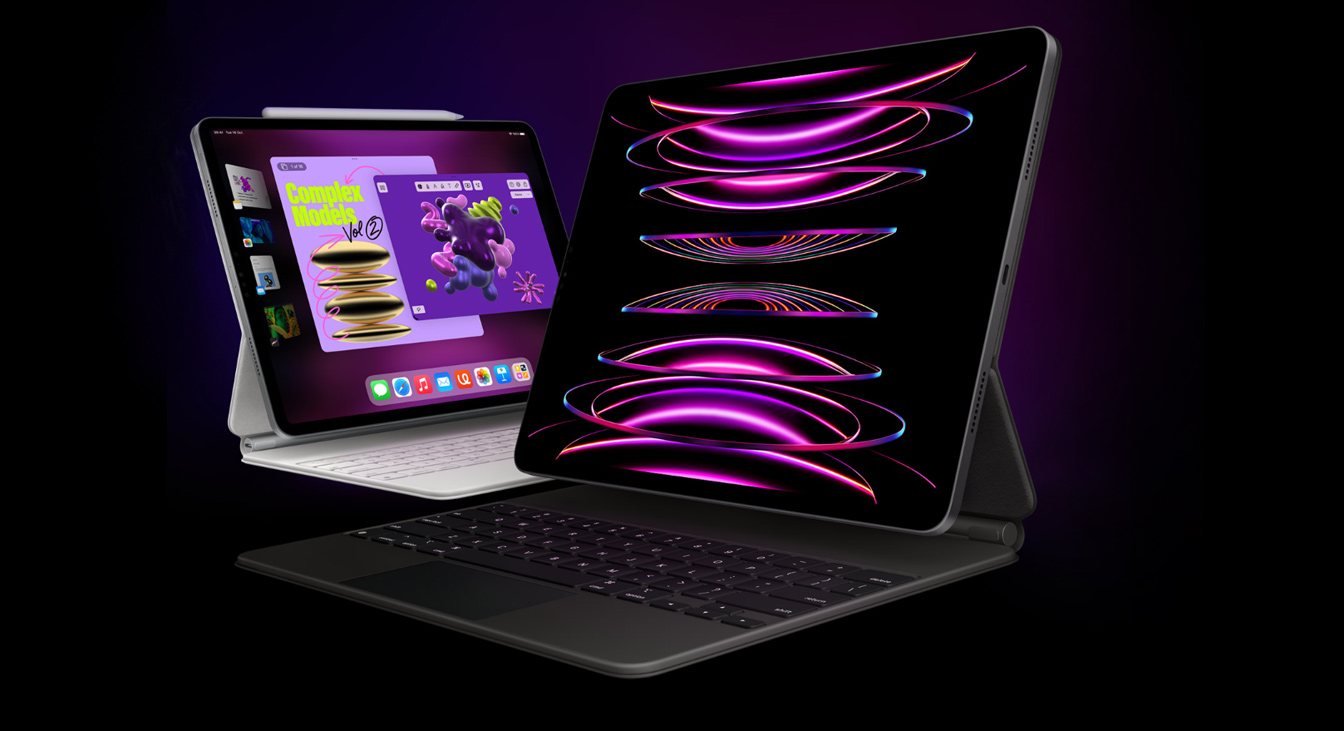 (opens in new tab)
A super-hot iPad offer this Black Friday comes from B&H Photo, which currently has a very decent $100 off a brand new 2022 12.9-inch iPad Pro, dropping the price to $999 (opens in new tab). 
The new iPad Pro is an absolute powerhouse, and to see it for under a grand just a month after its release is a real treat. This particular model comes complete with M2 chip, 128GB SSD and Wi-Fi.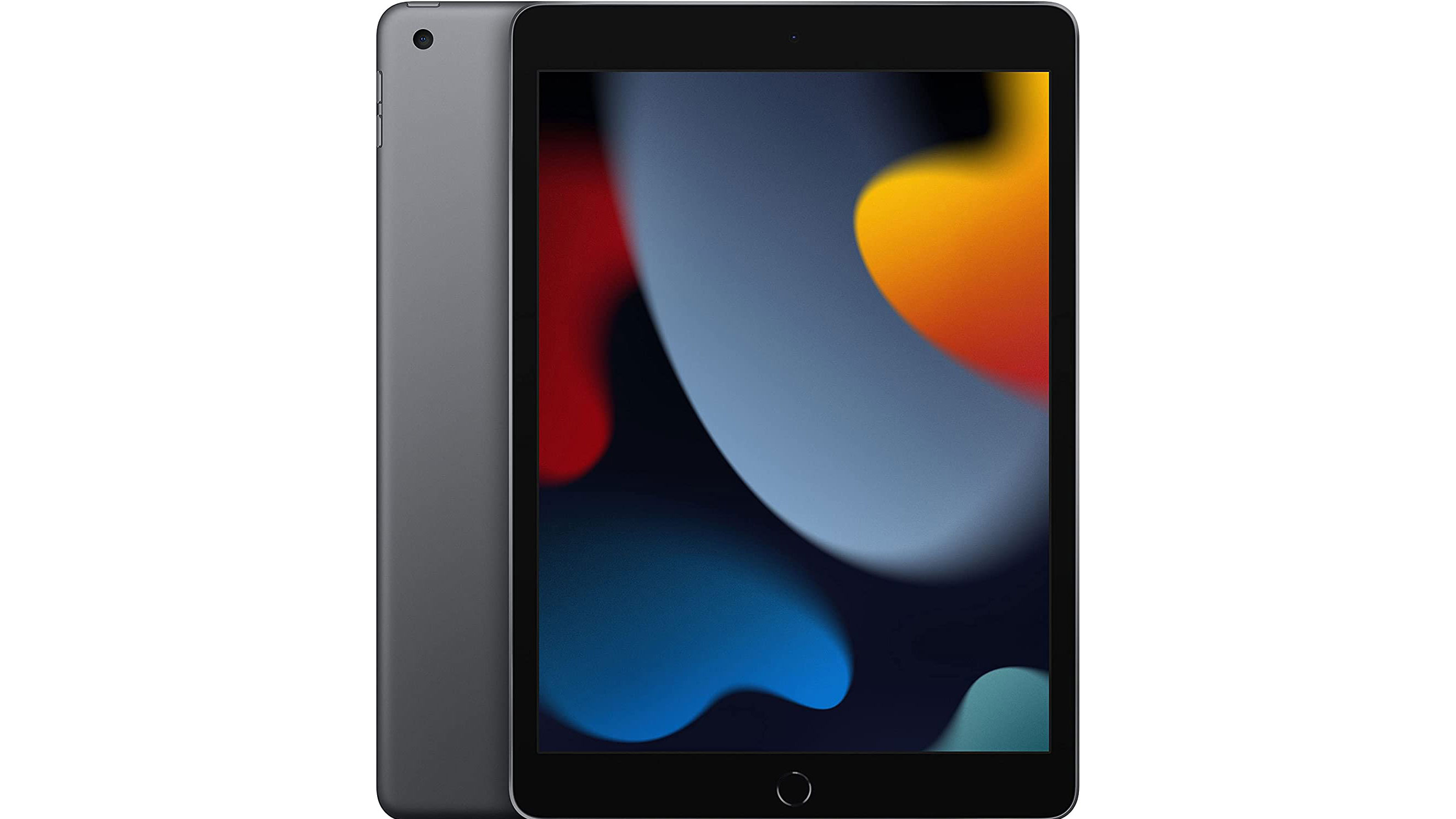 (opens in new tab)
Last month Apple released a new 10th gen iPad, but unlike with other models, it did not supersede its predecessor. Apple has kept the 9th gen iPad in its line-up, which is testament to the capabilities of its entry-level tablet. The good news is the arrival of its younger sibling has meant the 9th gen model price has dropped, and is now available on Amazon for just $269. (opens in new tab) 
Retailing for £329, last Black Friday we saw this drop to $299, which was the lowest it had ever been. Then just last month, when the 10th gen was released, it dropped even further to $269, and now that deal is back again. 
If you want a tablet that is good for every day use, that can be shared between the family, the 9th gen iPad is more than sufficient. And at this price it's a total bargain.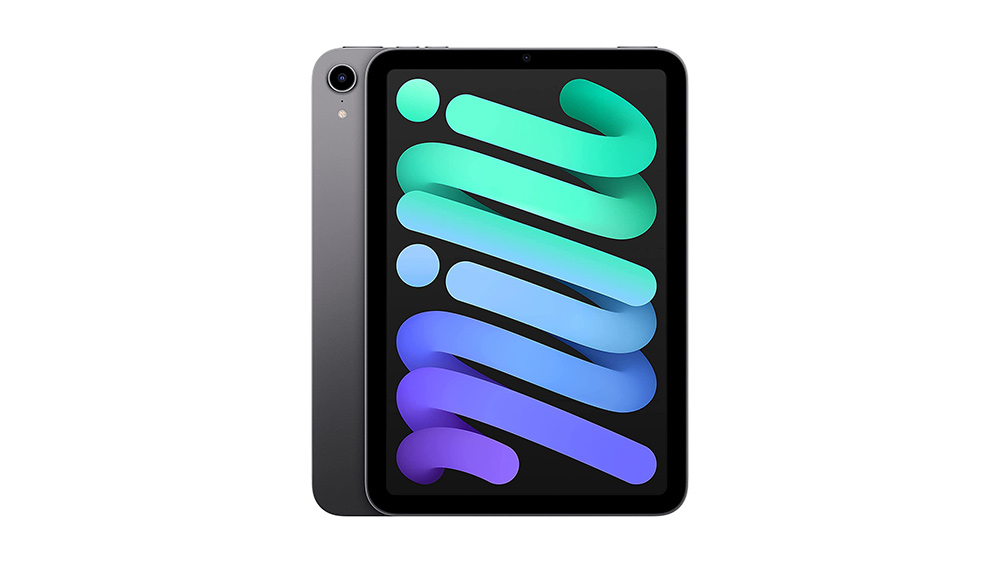 (opens in new tab)
Want a portable tablet? The iPad mini is a great option for anyone who needs to work on the go. And right now it's dropped back down to the lowest recorded price on Amazon UK – iPad mini 2021 with Wi-Fi and 64GB SSD now just £459 (opens in new tab). 
We saw the mini drop to this price back in April, but haven't seen it reduced since. We've never seen it cheaper so who knows if the next few days will see a record discount, but being that the tablet retails for £569 in the UK, a £90 saving is a cracking deal.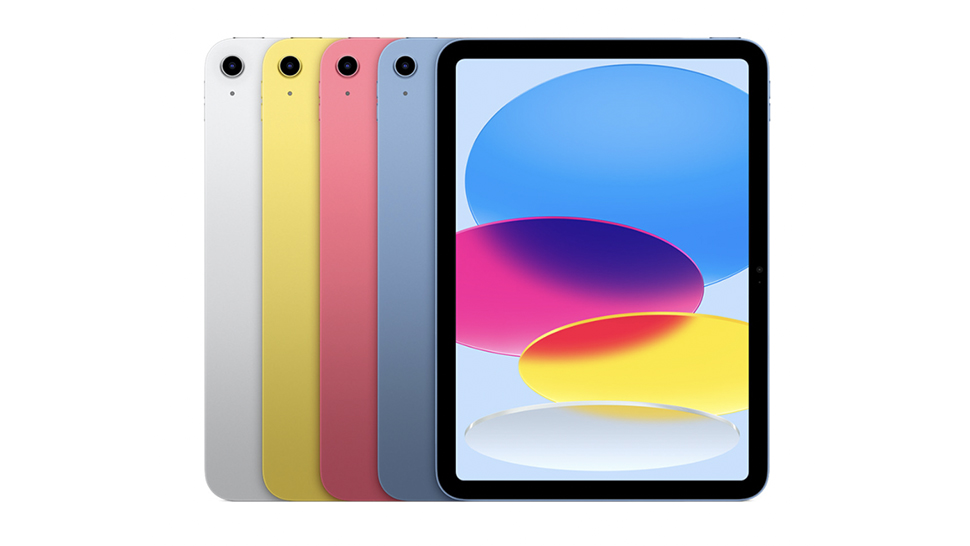 (opens in new tab)
Morning all, it's the penultimate day before the biggest retail event of the year officially starts. But we nor retailers could wait any longer. There are already deals aplenty, and if you're looking for shiny new Apple tablet this Black Friday, this is the place to be. 
Kicking our live deals page off is this modest deal on a new 2022 iPad at Very, which knocks £20 off – now £479 (opens in new tab). It might not seem like much, but this iPad is just a month old and so any kind of saving is a very welcome and pleasant surprise. 
We reviewed the iPad 2022 (opens in new tab) recently, and have to day, it's a marvellous little machine. And worth every penny of the increased price tag – especially with money knocked off.