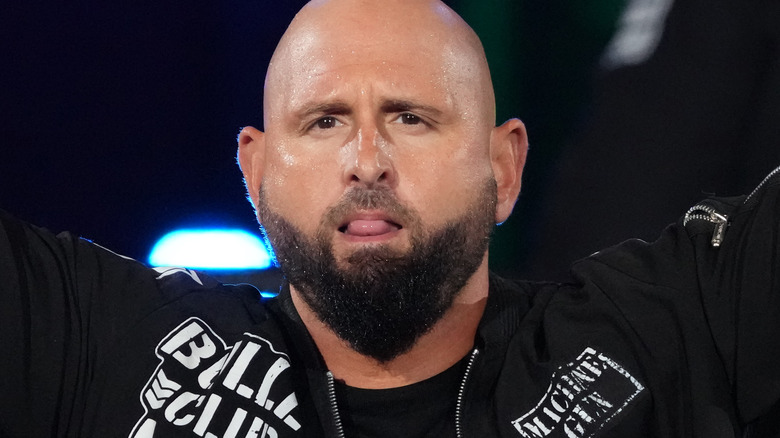 Etsuo Hara/Getty Images
Karl Anderson, profesyonel güreş hayranlarına eski AEW Trios Şampiyonları The Elite için bir destek gösterisi gönderiyor olabilir mi?
Anderson bir fotoğraf paylaşmak için Twitter'a gitti geçen yıldan itibaren kendisini, etiket ekibi ortağı Doc Gallows, Kenny Omega, The Young Bucks, Brandon Cutler ve Don Callis'i bir AEW ringinde "#SuperElite" olarak başlıklarını göstererek sergiledi.
#SüperElit pic.twitter.com/eiqj8obMlB

— Karl "Makineli Tüfek" Anderson (@MachineGunKA) 6 Ekim 2022
CM Punk, AEW'nin All Out izle ve öde etkinliğinden sonra, The Bucks ve Omega dahil olmak üzere All Out Media Scrum sırasında çeşitli AEW yetenekleri hakkında birkaç açık sözlü yorum yaparak güreş işini sarstı. Punk'ın sözlerinin, The Elite, Punk ve Punk'ın antrenörü Ace Steel arasında sahne arkasında fiziksel bir yüzleşmeye yol açtığı bildirildi. En az üç katılımcı şirketten uzaklaştırıldı, The Elite ve Punk sırasıyla AEW World Trios Championships ve AEW World Championship'ten çıkarıldı. Michael Nakazawa, Brandon Cutler, Pat Buck ve Christopher Daniels de görevden alındı, ancak o zamandan beri şirketteki görevlerine geri döndüler. Daha önce belirtildiği gibi, AEW çile hakkında sessiz kaldı ve bildirildiğine göre son günlerde Omega veya The Bucks ile iletişime geçmedi.
Gallows ve Anderson, AEW ve Impact Wrestling arasındaki geçiş döneminde Ocak 2021'de New Year's Smash'te The Elite'in resmi üyesi oldular ve Omega'yı Jon Moxley'in saldırısından kurtarmaya yardımcı oldular ve sonrasında "Çok Tatlı" jest yaptılar.Beş adam Gallows ve Anderson, Impact için tam zamanlı çalışmaya geri dönmeden önce kendilerine "Bullet Club" (hepsinin bir zamanlar parçası oldukları kötü şöhretli New Japan Pro-Wrestling ahırına bir gönderme) adını verdiler. O zamandan beri Impact'ten ayrıldılar ve en azından geçici olarak NJPW'ye döndüler.