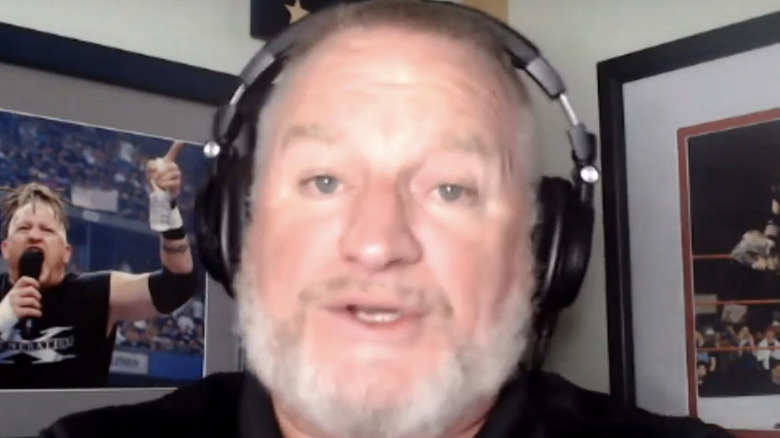 WWE
Shawn Spears, WWE tarafından serbest bırakılan ve AEWSpears'a giden birçok yetenekten sadece biri. WWE'deyken Tye Dillinger olarak bilinen Spears, canlı kalabalıklardan tipik olarak çok iyi tepkiler alan bir hile yaptı ve kendisinin bile dahil olmadığı maçlar sırasında kalabalığın genellikle 10'u söylediği "Mükemmel 10" olduğunu iddia etti. Ancak Spears, WWE'de fazla başarı görmedi, "NXT"de veya ana kadro markalarında şampiyonluklar elde edemedi. WWE Hall of Famer Road Dogg, Spears'ın WWE'de daha fazla fırsat elde etmesini isteyen hayranlarını ve AEW'deki rezervasyonunu tartıştı.
"Aynı insanlar Shawn Spears'ı seviyor, 'Shawn Spears'a bir şans verin… Ona ne koydunuz? [in a triple threat match against AJ Styles and Baron Corbin at Hell in a Cell 2017] için," dedi Dogg, "Oh…Bilmiyor muydun?" podcast'inde. "Her iki şekilde de olamazsın. Adamın çalışmasını istiyorsanız, onu oraya koyarız ve çalışmasına izin veririz. Bilirsiniz, şimdi birdenbire herkes, 'Ah, doğru kullanılacağı yerde AEW'ye gidecek' diyor. İki yıldır AEW'ye çıkmadı."
Spears, Casino Battle Royal'in bir parçası olarak ilk AEW şovu Double or Nothing 2019'da yarıştı ve şirket için toplam 69 maça çıktı. Bu 69 maçın 30'u ya PPV, "Dynamite" ya da "Rampage"deydi ve en son televizyonda yayınlanan maçı "Dynamite"ın 25 Mayıs'ta yer alıyor. Spears ayrıca kendisi, MJF, FTR ve Wardlow'un yer aldığı ve esas olarak 2021'de Inner Circle ile feuda giren The Pinnacle'da yer aldı.